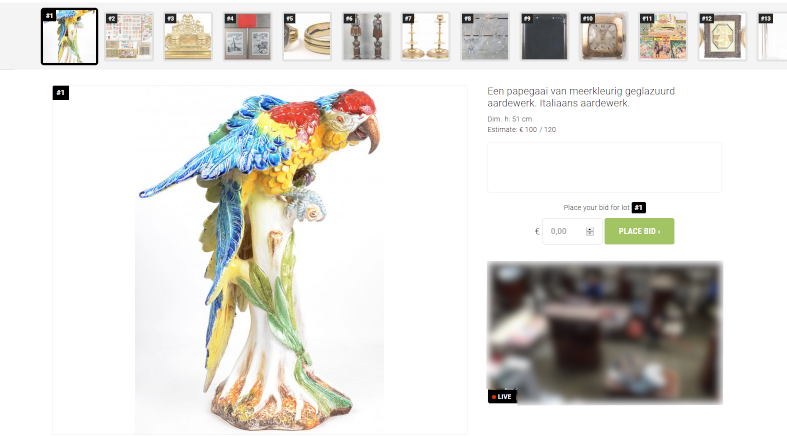 Wanneer the veiling begint zal er een duidelijke aankondiging bovenaan alle pagina's staan, gewoonweg op deze link klikken om naar onze live interface te gaan.
Al onze geregistreerde gebruikers krijgen de mogelijkheid om dan een bod te plaatsen op de veiling. Biedingen van andere klanten kan u zien op het biedingverloop aan de rechter kant van de interface. U volgt de biedingen in de zaal via de audio van de livestream – wees zeker dat de stream audio niet gedempt is – anders kan u eventuele tegenbiedingen in de zaal niet horen. Geluid van de zaal kan maximum een seconde vertraging hebben – als dit langer lijkt, gelieve even te verversen of uw connectie na te kijken.
---
When the auction starts there will be a clear announcement at the top of all pages, simply click this link to be directed to the live interface.
All our registered users will be given the means of placing a bid on the auction. Bids of other clients are visible in the bidding history at the right side of the interface. Bids in the room itself are heard through the audio of the livestream – please be sure the audio is not muted – otherwise any counter bids in the room can not be heard. Sound of the room will at most be delayed by one second – if it appear to be longer, please refresh the page and check your connection.
Op de valreep nog goed nieuws! De Krijgsbaan zal vanaf vrijdagmiddag helemaal klaar zijn. U kan dan opnieuw zonder problemen richting Wilrijk en richting Rond Punt van Wommelgem rijden. Onze straat is dan opnieuw volledig ontsloten.