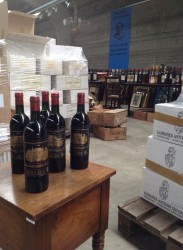 Mooie partij, veel oudere wijnen (jaren zestig, zeventig o.a.), maar b.v. ook mooie recentere bourgognes die op dronk zijn (vanaf 2001). In afwachting dat we de catalogus on line hebben, hier in elk geval al een pdf-versie. De veiling vindt plaats op donderdag 25 juni vanaf 19 uur.
Très joli contenu, beaucoup de vieux vins (années soixante, septante), mais également p.e. des bourgognes après 2001, à leur apogée. En attendant que le catalogue sera mis online, en annexe déjà la version pdf. La vente aux enchères aura lieu le jeudi 25 juin à partir de 19 h.
A very nice lot, many older wines (sixties and seventies), but more recent burgundies as well (after 2001 and at their top). Awaiting the catalogue on line, we already add the pdf-version. The auction will take place on Thursday June 25th, starting at 7 p.m.