Een hele grote collectie kristal van Val Saint-Lambert met o.m. uitzonderlijk grote stukken.
Een eerste deel wordt in de veiling van april aangeboden, vazen, schotels, coupes, lampenvoeten, karaffen, glazen… Sommige tot 60 cm hoog of met een doormeter van zo'n 40 cm. Alles toe te wijzen aan de hoogstbiedende, geen verzamelaar die dit wil missen.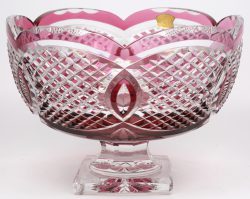 Une très grande collection de cristaux de Val Saint-Lambert dont pièces exceptionnelles.
Une première partie sera mise en vente aux enchères en avril: des vases, plats, coupes, pieds de lampe, carafes, verres… Certains d'une hauteur jusqu'à 60 cm ou un diamètre de 40 cm. Le tout à adjuger au plus offrant. Aucun collectionneur veut rater cette opportunité.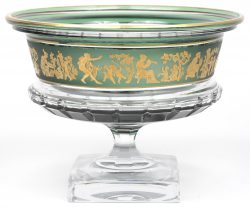 A very large collection of Val Saint-Lambert crystal comprising exceptionally big pieces.
A first part will be auctioned in April: vases, dishes, bowls, lamp bases, decanters, glasses… Some of them as high as 60 cm or with a diameter up to 40 cm. To be sold to the highest bidder. No collector would want to miss the occasion.